» 6th March, 2017
Second to last release in my scheduled process of upgrading all my simulators to my newest standard ("S4"). Today's game is again a classic from Gakken: Donkey Angler (also known as Fishing Boy).
The source code is brand new, the graphics have been improved significantly and the game can now be fuly operated via keyboard - making it ideal to install on PC arcade cabinets.
This is the usual comparison between the new and old version of the game simulator: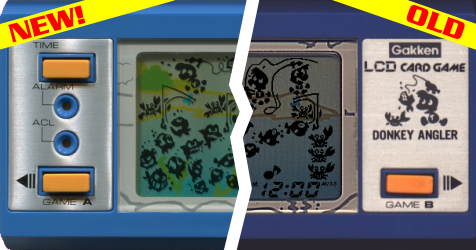 I am also releasing an updated version of Tom & Jerry Popper, following the request from a few users. The "time mode" can now be operated with both "1" and "3" keys, making the simulator compatible with various PC cabinet setups.
This is the list of new downloadable files:
- Donkey Angler (Gakken, LCD Card Game) S4/1.05 (Standard 4, complete rewrite)
- Tom & Jerry Popper (Gakken, LCD Card Game) S4/1.05 (Standard 4, minor update)
- MADrigal CD Collection ver. 59.27
- ClrMamePro DATfile ver. 20170306 [59.27]
All files available for download at the usual downloads page.
» News archive