» 3rd January, 2022
Happy new year everyone - and we start with a couple of juicy updates!
For a start, KMFDManic has just contacted me to inform that his popular creation, "MADrigal for NES/SNES Mini Classics", has just been upgraded. Not only it is easier to install (via Hakchi2), but it is now also compatible with the recently released MegaDrive Mini and Genesis Mini consoles and is distributed as a single package woho! Full instructions are provided as a "readme" file within the installer/archive.
Secondly, Koby Goldberg has just released an updated version of his lovely Android port of the Popeye (Nintendo, Wide Screen) simulator. Nothing major, just a bug-fix release addressing incorrect behaviour for the game pause mode, that was introduced with the previous version.
The new files are:
- MADrigal for NES/SNES/MegaDrive Mini - Version 2021-12-31
- Popeye (Nintendo, Game & Watch Wide Screen) for Android - Version S5/1.02 (Standard 5, minor fixes)
The files are available for free download at the usual downloads page.
And... stop the press! :-)
Just minutes before posting this update, I received an email from talented programmer of G&W simulators Itizso who informed me that he has just added a new game to his collection of "3D" simulators: Donkey Kong 3!
Visit Itizso's website to grab the game! :-)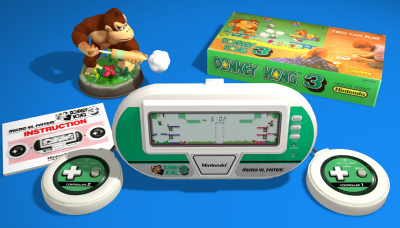 » News archive