» 4th January, 2016
Happy new year everybody!
Games release time again. And again it is a Game & Watch Panorama Screen classic with Donkey Kong as the main character. The setting is not exactly my cup of tea, but the game is fun and addictive so I hope you enjoy playing the simulator.
Here's the usual comparison between the new and old version of the game simulator: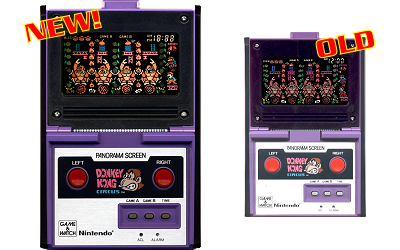 Big thanks to René Van Egmond, Raphael Lepoutre and Roberto De Gregorio for providing stuff and priceless support!
This is the list of new downloadable files:
- Donkey Kong Circus (Nintendo, Panorama Screen) S4/1.06 (Standard 4, complete rewrite)
- MADrigal CD Collection ver. 59.23
- ClrMamePro DATfile ver. 20160104 [59.23]
Grab them from the popular downloads page.
» News archive