» 12th April, 2021
I was recently given the opportunity to speak about my project with handheld games enthusiast and university professor Ryan Claytor on his brand new Game and Cast podcast. In the one-hour interview I speak about my experience as programmer of handheld games simulators, as well as my other projects related to retrogaming.
The interview is avaialble at the following pages:
* Anchor.fm
* Spotify
* Google Podcast

The shownotes with photos are available at this page:
* Elephanteater (Ryan's blog)
Don't miss to listen to this podcast, and all other episodes. New episodes are released every second Monday! :-)
» 28th February, 2021
I am very pleased and excited to write this post!
For the first time since I started "MADrigal's simulators" back in 1999, I was very recently given the opportunity and honour to mentor and help a programmer eager to make his very first handheld game simulator.
His name is Koby Goldberg, and the game in question is Popeye - Nintendo Wide Screen Series!
And for the first time, MADrigal's Simulators hosts a handheld game simulator that was not programmed by myself, but instead it is the result of Koby's talent and efforts, with just a little help from me. And let me tell you, this simulator is really excellent!
Compared to the other simulators on this website, Popeye has a few additional features that make it a not-to-be-missed download:
two skins (one designed by Koby, perfect for large monitors, and one designed by myself, ideal for smaller monitors)
a demo animation identical to that of the original handheld game
the "in-game pause" option.
This is how the game looks like on the two included skins (and you can replace the entire game graphics with your own design!)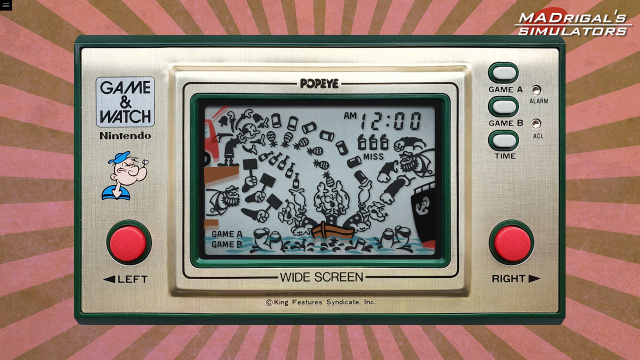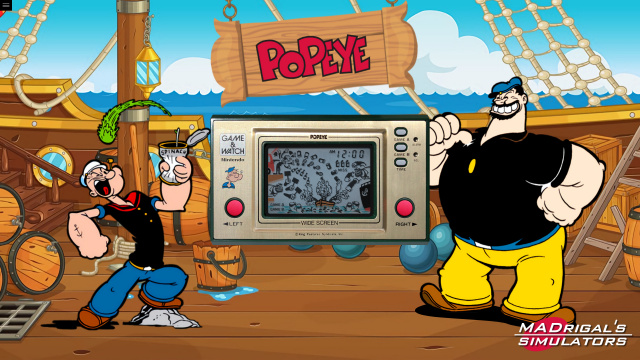 I would also take this opportunity to introduce a new cool podcast that launches tomorrow. The author, Ryan Claytor, is a university professor in the United States with a passion for gaming history. His podcast will focus on classic handheld games and will release fortnightly starting 1st March, 2021. Podcast is at www.GameAndCast.com and any podcatching app!
Back to the new releases! This is the list of new files:
- Popeye (Nintendo, Game & Watch Wide Screen) S5/1.00 (Standard 5, final) + source code
- MADrigal CD Collection ver. 61.0
- ClrMamePro datfile ver 20210228 [61.0]
All files are available for free download at the usual downloads page!
» 14th January, 2021
I have recently been contacted by a very talented and passionate programmer named Koby Goldberg, who provided a lot of ideas and materials, which I utilised to improve the accuracy of the simulation of my "Parachute" simulator.
As it is my birthday today, I have decided to make you my very personal gift: an updated version of the game. This new release incorporates a few significant changes in the game source code, which results in the simulator being much closer to the original game, than it has ever been in any previous release! This all thanks to Koby for his precious help!
See below list of today's new releases:
- Parachute (Nintendo, Game & Watch Wide Screen) S5/5.02 (Standard 5, more accuracy) + source code
- MADrigal CD Collection ver. 60.2
- ClrMamePro datfile ver 20210114 [60.2]
All files are available for free download at the downloads page. Have fun!
» News archive